New
---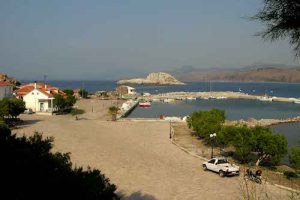 I am ashamed
The new Greek government wants to get rid of the old, much criticized refugee camps on the islands Lesvos, Chios and Samos. They want to replace them by closed camps in faraway regions, in my eyes prisoner camps. Europe that has itself already blackmailed by Turkey with refugees, will probably not care about these Greek plans. I am ashamed.
---
From the archive
---

January 24, 2006 – The big Frost Kais
Wintertalk
They say that the world warms up, but I have the feeling that Greece cools off. Like the winters become more cold and grey. The first weeks of the new year were bitter cold, due to a nasty Northern wind. The first snow settled on the mountains. The blossom buds of the almond trees, always the first to greet a new year, do not swell yet, like the anemones hesitate to appear in big numbers. What winter will we get? I do hope it will not one like the winter of 1850, described in a column from 2006: The big Frost Kais.